In the Industry 4.0, digital technology has become an important factor to help business development, improve the competitive ability and move towards intelligent production. The integration of data and information by digital technologies will be leverage for businesses to build main activities focused on creating or adding value to the product (Value Chain).
Employees, engineers, managers and leaders need to understand the current production and business situation quickly to make important decisions in time, help manage effectively, solve the problems, improve productivity and achieve target.
That is the reason "XHQ Operations Intelligence Software" was born to provide businesses with a breakthrough strategy solution to optimize manufacturing operation. With a collaborative framework between different data sources, the XHQ System provides the most complete "online" view, from overview to details of all business activities.
XHQ aggregate​ information from variety sources, analysis and present it on an intuitive​
OVERVIEW ABOUT THE XHQ SYSTEM
The XHQ Operations Intelligence solution is designed to extract and aggregate data from a variety of information sources (including ERP, data warehouses, databases, documentation, process historians, as well as automation information repository), and then present it on an intuitive, transparent platform.
With its highly-scalable performance, the XHQ platform is designed to be deployed across your organization, enabling data to be seamlessly shared by personnel in different geographic locations. You can work from multiple auto configured or option dashboards, or break down data using multi-direction analysis method, automated data blocks, ratings and alerts, monitor the situation of each department.
Additionally, the information can be displayed in various representations, from charts to live data streaming.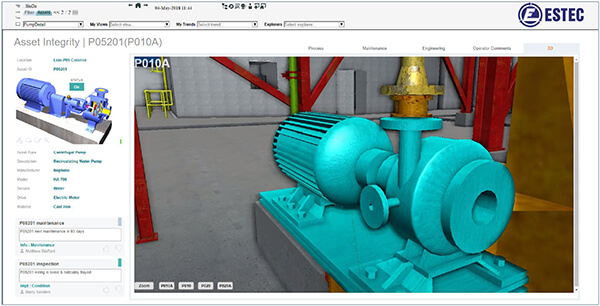 XHQ integrated information from businesses system and data form factories

THE CORE FUNCTIONS
- Performance Management is an optional extension module and this function operates based on the control system of XHQ, with the ability: setting operational goals, monitor processes and equipment, define alerts and notifications, e-logs and report changes.
Performance Management is a comprehensive suite of applications that support the continuous improvement cycle of plant operations. This function has its own database to store configuration and results data. All collected data are integrated into the XHQ System. End users often interact with "Performance Management" data through regular XHQ views.
This function works optimally thanks to the following support tools:
+ Target Management provide extension ability to manage goals and milestones, KPIs of each activity.
+ Alert Notification Server (ANS) is used to be monitor, define event and alert to user. ANS can be handled up to tens of thousands different conditions.
With each goal set by business, ANS is capable of monitoring it through data collection, then analysis the situation based on conditional parameters. For example, XHQ Performance Management provides a rich ability for people to define their own alerts and notifications when things happen, such as a key indicators drop. XHQ can send alert notification by email to users.
+ E-Logs is a web application for managers, operators to enter review, notes or shift work report.
An E-Log is a text note with title, date, categories and a link to a node (or path) in the XHQ solution tree. E-Logs are stored in a database, can be queried and also used in XHQ views just like any other data source
- XHQ Reporting Services is a tool to supplement reporting service of Microsoft SQL Server Reporting Services (SSRS). With SSRS, a website can create their own customized reports, then print, email, store and view them widely. XHQ Reporting Services uses an XHQ ADO.NET data provider.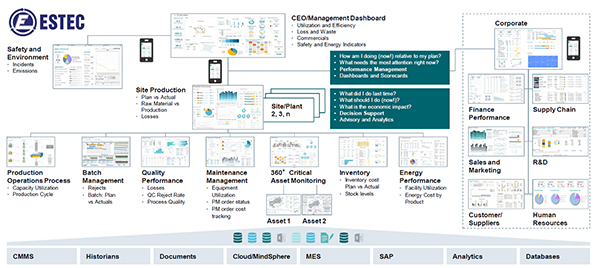 The XHQ screen uses a set of widget to build attractive display on website
In addition, the XHQ System provide an advanced data analytic system to plan future activities:
- Performance Analytics: This function providing the capability to apply advanced analytic and reporting techniques to operations and business data at the site, regional, and global levels.
Analysis productivity based on Microsoft SQL Server Business Intelligence.
Data science analysis tools can use the income data from the Performance Analytics module to do several things:
+ Extract and calculate, transfer data to make plans.
+ Perform complex calculations and activities that combine data from multiple sources and process Big Data.
+ Merge data from multiple systems into a single data set.
With these outstanding functions, XHQ Operations Intelligence Software will help businesses solve the difficulties of digitizing data in manufacturing operation.
WHY ESTEC SHOULD BE CHOSEN BY MANY BUSINESSES?
The XHQ System helps the leaders will be updated and accessed to information immediately when they need to make decisions about core strategies, effective operational strategy based on reliable data that XHQ has handled.
Consistent plant-wide metrics
Allows data access without knowing source application
Ability to share crucial, timely data throughout the enterprise
Access to visual presentations of meaningful data in various formats to ensure greater flexibility and more accurate decision-making for increased customer responsiveness
Facilitates remote monitoring and supports troubleshooting
Significant business efficiencies achieved through productivity increase and cost reduction
Maximum return on investments in automation equipment and IT
Highly scalable for global, enterprise-wide deployment
Speed and agility for your business needs
APPLY THE XHQ SYSTEM TO MANUFACTURING OPERATION MANAGEMENT
The XHQ System is suitable for specific demands of the process industries, meets the standards of modern security and IT and allows ease access to other systems and historical data at the same time. The XHQ System is easy to install and use, highly customizable and adapted to the demands of each business.
This system has been successfully deployed in many industries: Oil refining, Petroleum production, Chemicals, Mining, Cement, Processing Minerals, Electricity, Food & Beverage, Water Treatment and Pharmaceuticals.
Apply the XHQ System to manufacturing operation management will support business to synthetize, organize, analyze and monitor daily operation, helping to understand clearly about performance, evaluate business, evaluate productivity and identify problems and fins opportunities for development.
​
XHQ provides "online" view from overview to details about manufacturing operations process
ESTEC is the official partner of Siemens in consulting, deploying XHQ Operations Intelligence Software. With team of experienced engineers in many industries, they are well trained and up-to-date technology from Siemens, ESTEC is confident to be a provider of leading solutions for XHQ System.
Please contact us immediately for detailed consultation.