With the great development of The Fourth Industrial Revolution, many opportunities and tools is opening up for businesses to promote, optimize production and business apparatuses, connect departments to serve customers.
In the digital era, data is the resources of businesses and it is also the key of the journey to transform operations, production activities and innovation. How to keep up with the development trend of the world?.
This is a problem that most businesses, regardless of whether the business is large or small in any industry had to face and find way to upgrade the operating process towards automation and management in the direction of digitalization, in order to optimize production apparatus, improve product quality to meet the demands of customers.
One of the technical solutions that can be applied to production and management is Advanced Scheduling System.
AS (Advanced Scheduling) has been developed to meet the essential demands mentioned above. Advanced Scheduling System can be able to produce an optimized plan towards enterprise resources (including raw materials, inventory products, half inventory products, devices, human resources) in order to achieve criterions towards production demand and flexibly optimize production plan.

Software Screen of Advanced Scheduling System
WHAT IS ADVANCED SCHEDULING (AS)? AND THE MAIN FUNCTIONS OF AS SYSTEM
AS (Advanced Scheduling) is the advanced production management system capable of optimizing production processes by meeting the demand of production and actual capacity. This is a groundbreaking change that enabling to extract real-time information from that chain, to calculate a feasible schedule, resulting in a fast, reliable reponse to the customers.
AS System is suitable for complicated production environment, which can help manufactures make detailed production plans with high reliability also meet the demands from customers and have a thorough understanding of the actual production situation.
The main functions of Advanced Scheduling System:
- Concurrent planning: Before AS System was developed, software's of the past conducted planning through breaking processes into various steps and then performed separately, AS combines these functions to perform collectively. This allows the operation to run much more efficiently and generate feasible plans that production can allow with ease.
- Constraint management: AS framework locate bottlenecks within the supply chain and attempt to model the throughput in the software with restrictions of the bottleneck. Since then bring out the optimal solution.
- Global optimization: Advanced Scheduling seek to drive coordination between multiple plants and optimize demands within the supply chain. This aids global optimization and make sure high efficiency of production as well as keep up actual demands.
- AS features a whole new level of in-software customization, putting the power to change the way the system looks directly in to the user's hands. This includes a new data editor grid that allows custom sorts, filters and grouping to be applied and enables the fields displayed to be selected whilst viewing the data. In addition, there is a powerful table and field editor tool which enables changes to the table and field names, re-designing the dialogs and setting the display attributes of the fields.
- AS System is designed to be easily integrated with other business systems to allow the simple retrieval of any required data, be that work order information from your ERP/MRP system or updates on operation progress from an MES or Salesforce.com system. This is supported by a simple, intuitive data exchange interface and a powerful workflow tool that allows the rapid deployment of integrations. The flexibility of AS integration tools and data setup makes it possible to implement the system entirely stand-alone, have it fully populated by data from other business systems or any scenario in-between. If information about product routings and BOMs is held within AS, then it is possible to use the system for ad-hoc order inquiries, allowing the planner to give accurate delivery estimates in an instant.
With these core functions, Advance Scheduling System will be the "key" in order to upgrade manufacturing operations to a new level.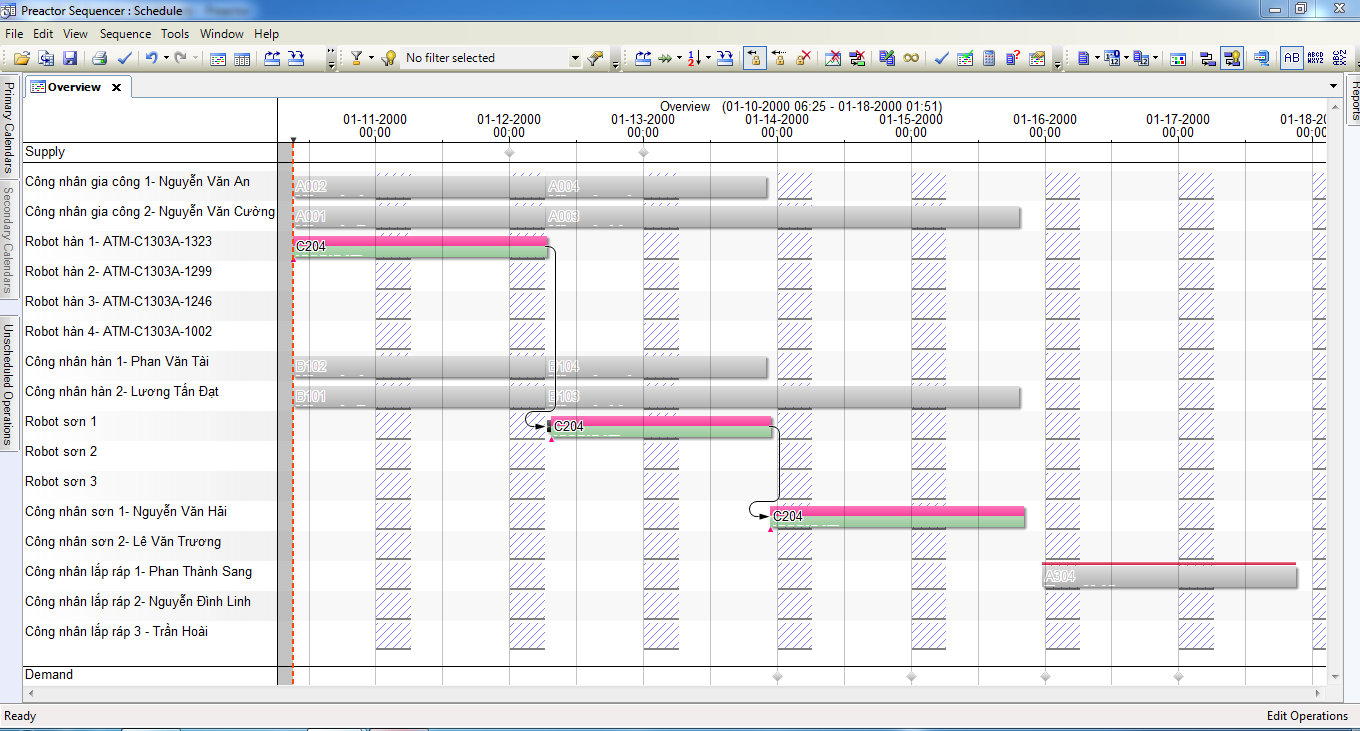 Detailed visibility of the production load​
BENEFITS GAINED FROM AS SYSTEM
AS is software supplying advanced analysis and integration, concentrate on improving supply chain planning and production.
For instance, when producing multiple purchasing order at once with large quantities, it is difficult to produce an optimized plan. AS can be solve it and end-users will get practical benefits from AS System:
- It determines an optimized production plan automatically and quickly with time in minutes and seconds.
- It uses intelligent analytical tools to perform finite scheduling and produces a realistic plan.
- Improve the accuracy of the production process and increase production efficiency of the whole system (warehouse of production materials, production machinery, production time, …).
- Have a real-time vision between production plan and actual production process.
Material Constraints
Predicts effects of change in production and changing plans
Advanced Scheduling System with multiple outstanding functions that helps production managers get a visual overview about each production order and production process. Since then, determine the production process accurately and efficiently. Besides, it helps control and use available resources of businesses. It is a sound basic for businesses "breakthrough" and "catch up with success" on the path of resources optimization to meet the demands of customers.
ESTEC is the official partner of Siemens in consulting, deploying Advanced Scheduling System. With team of experience engineers in many industries and up-to-date technology from Siemens, ESTEC is confident to be a provider of leading solutions for Advanced Scheduling System. Please contact us immediately for detailed consultation.