Review part 1 at: http://www.biendongco.vn/vi/wqms-he-thong-quan-trac-nuoc-thai-tu-dong-lien-tuc.html
Before the WQMS was launched, Horiba has produced the first pH meter in 1950 in Japan. Derived from that, a variety of of machines and water quality analysis systems are designed and put into operation by Horiba. Nowadays, about 200 WQMS systems have been installed in Korea.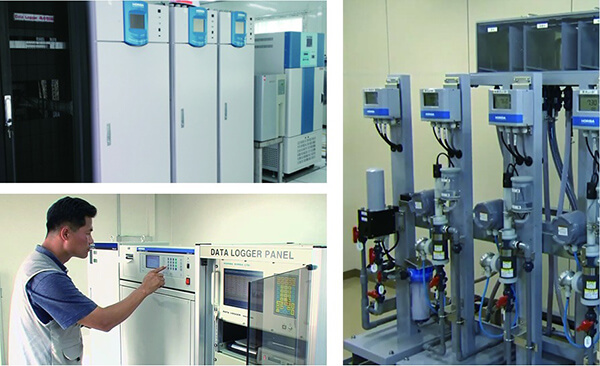 After installation of Water Quality Monitoring System (WQMS), end-users will get benefit that system functions offers:
- Proactively control the operation of the discharge process: Thanks to the measured values and signals are recorded continuously, the WQMS system will ensure the waste discharge of the factory operation stable and reliable.
- Easy maintenance, minimize downtime operation: The device is calibrated and easily maintained at the installation position thanks to its superior technological features, which helps to minimize related costs.
- Strictly follow the regulations of getting wastewater sample: Flexible sampling system allows sampling of waste water according to the default time before. When any monitoring parameters exceeds the allowed standards, the system will automatically pump wastewater into the auto sampler and store the questionable sample into a sample container at a standard temperature of 4°C in accordance with provision of the sample storage of Ministry of Natural Resources and Environment.
Which methods of measurement is used to monitor?
Previously, for environmental monitoring in general and wastewater in particular, often applied traditional methods of measurement. Recently, with advanced and modern development technology, the online environmental monitoring method (automatic monitoring) has been increasingly widely used and popular. This is an optimization method that allows measurement and control indicators in a continuous, fast, saving time but still bringing high efficiency and absolute precision.
In order to serve customers' needs well, ESTEC always puts the standards of quality products and innovative solutions as well as professional services to the forefront. When monitoring waste water, based on the monitoring parameters and principles of measurement and analysis of the monitoring equipment, a team of ESTEC's engineers will consulting customers to determine the appropriate installation of monitoring equipment: Direct method or Indirect method.
Outstanding advantages when applying the online environmental monitoring method:
- Measured many different parameters to ensure the continuous, fast.
- The monitoring data will be stored on the system and computer, making it easy to search and retrieve old data.
- Can be upgraded, expanded on-demand system is designed as a measuring module.
- Simple operating system, anyone can control it after installation.
- Function alarm when it detects abnormal parameters, wastewater exceeded, making control more efficient.
- Can control the system remotely, anytime, anywhere thanks to the online connection.
Recently, most of the parameters evaluated water quality can be applied online monitoring method.
Horiba from Japan was established in 1953 as the world's leading manufacturer of measuring and analytical instruments, with a quality has been confirmed in market and certified by many international organizations: Environment Agency's Monitoring Certification Scheme of British (mCERTs), German Ministry of Environment (TÜV) ...
ESTEC is the official solution partner of Horiba about system integration, including Water Quality Monitoring System (WQMS). With a team of experienced and well-trained engineers, we could consult, design, execute and install the system in accordance with the provisions of the State on environmental protection. We can provide the totally solution for Water Quality Monitoring System (WQMS).
In addition, ESTEC provides training, operation and maintenance instruction so that the WQMS system after installation will operate stably, continuously, synchronously and seamlessly. Please contact us immediately for detailed consultation.