In the industrial production process of most current plants, the industrial electricity system plays an important role in operation. Strong demand for production has led to an increasing demand for industrial electrical equipment.
Industrial electrical equipment is an "extension arm" of the industrial electricity system, helping to ensure the stable operation of the power source, and at the same time developing a safe, reasonable and efficient transmission system for production activities.
CLASSIFICATION OF INDUSTRIAL ELECTRICAL EQUIPMENT
Industrial electrical equipment performs the main tasks of: switching, controlling, adjusting, protecting, converting, controlling and inspecting all activities of the grid system and electric machines. In addition, industrial electrical equipment is also used to test, adjust and transform measurement of many other non-crazy processes in manufacturing activities in industrial parks.
A complete power transmission and distribution system consists of 3 segments:
- High voltage electricity (from the power plant goes along the North - South line) is responsible for distributing electricity throughout the country.
- Medium voltage transmission electricity to the region and medium voltage demand.
- Low voltage electricity serving industrial and civil needs.

1. High voltage equipment
- High voltage circuit breakers with levels from 72.5kV to 800kV are the central components of the high voltage switchboard / system. This device is used to shut down, isolate and protect the entire components behind it with high reliability.
ESTEC supplies basic breakers from 3AP1 to 3AP5, 3AQ and 3AT for higher demands.
- Current Transformer (CT) is used to measure and protect high voltage systems.
- The Disconnecting Circuit-Breaker (The DCB) is developed based on the standard of 3AP circuit breaker. DCB has two circuit breaker functions, while isolating the distance in the air to protect the state of the circuit in the grid.
2. Medium voltage electrical equipment
Medium voltage electrical equipment is network equipment with a voltage of over 1kV up to 52kV, used mainly in industrial networks and used to distribute to the base systems.

Medium voltage equipment includes 02 types:
- Switching device: Have the function of switching off the current when short-circuit and overload events occur to protect the motors of electrical equipment to be safe from incidents.
+ Medium voltage circuit breakers: With the general function of switching on and off the circuit to protect the rear devices, the medium voltage circuit breaker is divided into 2 types for indoor and outdoor lighting, ensuring a stable power source. specified. The list of medium voltage circuit breakers is in the 3AH range.

+ Recloser: A circuit breaker equipped with additional measurement transformers and controllers. With this feature, Recloser is specifically applied to overhead lines. Recloser catalog belongs to range 3AD.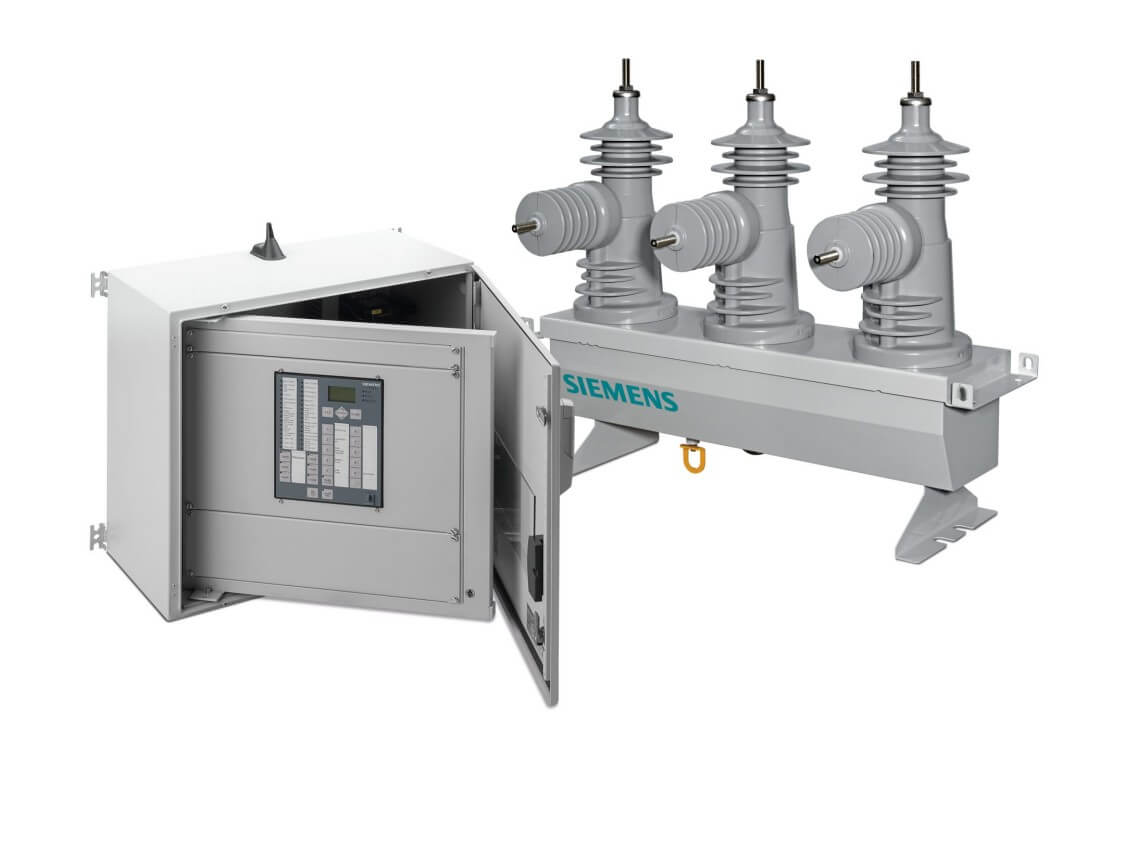 + Medium-voltage contactor: A switch that has a limit in energy transmission, used in most industrial circuits. When there is a high switching ratio, this device is used to switch on and off the electromotive circuits remotely or manually. Medium voltage contactors are often used with medium voltage fuses. The Contactor list belongs to the 3TL range.
+ Isolator: This device is used when there is a need to completely separate the power source with a single device.
- Non-switching devices, used to measure and protect medium voltage systems, including:
+ Surge arresters / limiters

+ Medium voltage fuses
+ Measuring transformer and protection transformer

3. Low-voltage electrical equipment
Low-voltage electrical equipment is used in the grid below 1kV, serving a variety of manufacturing sectors and industries. ESTEC provides low-voltage electrical equipment including:
- Switchgear:
+ ACB - Air circuit breaker: 3WL series, 3WT series
+ MCCB - Block Aptomat and MCB - Shell Aptomat: 3VA, 3VL, 5SY, 5SL serie
+ Contactor 3RT series, 3TF series: In industry, contactor is used to control the operation of motors or electrical equipment to ensure safety when operating. This is an automation solution by electromechanical method, simple to use, high stability and easy to repair.
- Device Drivers:
+ PLC automatic control device: S7-1200. S7-300, S7-1500, S7-400
+ HMI screen is an indispensable device to contribute to the automation of complex processes and production processes that require high accuracy.
- Actuator:
+ Electric motor: plays a very important role for industrial electrical systems. The device is estimated to use about 70% of all electrical loads in industry, helping to convert electricity into mechanical power.
+ Inverter: Integrating communication modules to support the control and monitoring from the center easily, greatly saving energy compared to direct motor running.
+ Soft start in the control cabinet can cater for standard and high-end applications. This is the perfect device to start a 3 phase electric motor.

With a team of experienced engineers and experts and in many industries, ESTEC is confident to serve customers the best quality products, the most reasonable prices and special is a professional service.
ESTEC carries out the technical design, installation, commissioning, operation, maintenance and system upgrade consultancy. Please contact us for detailed advice.