ESTEC'S BEN TRE COMPANY TRIP: TRIP OF CONNECTION
ESTEC'S BEN TRE COMPANY TRIP: TRIP OF CONNECTION
After Cu Lao Cham trip of ESTEC's employees in Da Nang, ESTEC's Trade Union in Ho Chi Minh has organized for all employees working at head office to visit - explore the "coconut land" Ben Tre from October 19th to 20th, 2019.
During the trip, everyone heard about "ESTEC Cultural Handbook". Good cultural values ​​have spread to all employees. Soon, big family of ESTEC Ho Chi Minh moved to the Social Protection Center (Ben Tre Province) to visit, encourage and give gifts to nearly 20 orphans and more than 50 lonely elderly people.
Next, the delegation stopped at Lan Vuong Resort to join in Teambuilding activities with many fun and interesting games: cycling across the monkey bridge, catching fish, swinging rope, rowing three leaf boat ... With the spirit of "Gather Power- JoinSuccess", the program has contributed to strengthen solidarity among ESTEC's employees.
After a full day of fun, everyone attended a cozy and meaningful Gala Dinner. This is also a night to honor and give gifts to women on the occasion of Vietnamese Women's Day October 20 and recognize the 4-year process of dedication by some ESTEC employees.
Before the end of a trip, the delegation had the opportunity to explore the Mekong River, enjoy the local produce, listen to the folk songs, visit the coconut candy making house - a typical and famous trade village of Ben Tre.
The trip ended successfully and left unforgettable memories in each member. Hopefully, after this trip, all ESTEC's employees have been energized, excited to complete the upcoming work.
Some photos of a trip: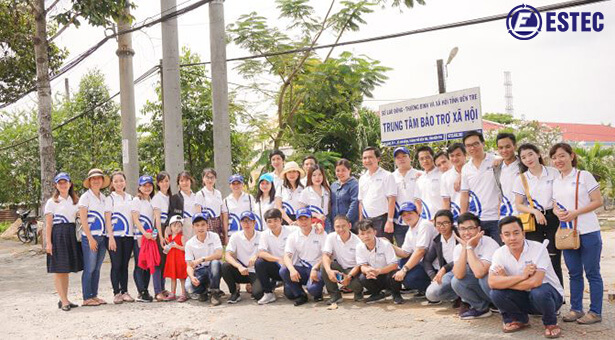 ​